Desktop Backgrounds
Digimon Humors
Digimon Top 10
Tamers Club
Digimon Cards
Digimon Scans
Toys
Digimon Music

Message Board
Free E-mail
Chat Room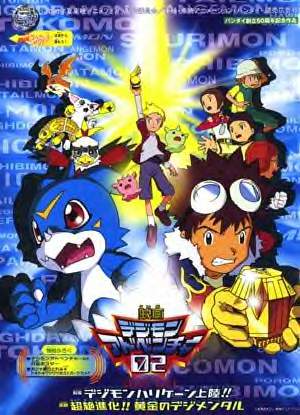 While on vacation in New York, Kari and T.K. discover a digidestined with some problems. His name is Willis. He has twin digimon Terriermon and Kokomon. Kokomon has been infected by a virus and is acted irrationally. He keeps telling Willis to go back to the beginning. Willis decides to go back to his former home in Colorado. T.K. and Kari decide to go as well, and they send word to Davis, Yolei, and Cody to meet them their. T.K. and Kari are slowed down by Kokomon, who derails the train they are on. Willis and Terriermon meet Davis and the others on the way to Colorado. They run into Kokomon again, but this time he digivolves into Antylamon! Terriermon digivolves into Gargomon, and the rest of the digimon armor digivolve. They have little effect on the ultimate level digimon Antylamon. The situation worsens when he digivolves to his mega level, Kerpymon! Just when all looks lost, Angemon and Angewomon show and save the digidestined from defeat. Kerpymon somehow makes time move backwards, causing the digidestined to grow younger and younger. Angemon and Angewomon decide to digivolve to their mega levels to release the golden digi-eggs. Once they do, Veemon and Terriermon golden armor digivolve to Magnamon and Rapidmon. They get inside and destroy the virus corrupting Kerpymon. He is destroyed in the process. Kokomon eventually returns in the form of a digi-egg, and Willis has both of his digimon once again.

Notes
1. This movie does not connect with the anime. It is not in continuity.
2. In the original Japanese version, Tai and the other season 1 digidestined had been captured by Kokomon.
3. This movie marked the only anime appearance of Seraphimon and Magnadramon.